Vivant Alternate Portable Vaporizer
The Alternate Vaporizer is a portable, sophisticated battery powered vaporizer.
Notice: Vivant Alternates sold by PlanetVape have the newest re-designed V3 top cap with the new stainless steel heat sink insert and top vent to dissipate heat more evenly to prevent cracking / deformation from happening. The new V3 top cap material is now switched to PEEK which is able to endure much higher temperatures than the PC material on the original top caps.
Also our Vivant Alternates are one of a few with the just released V1.03 Firmware which allows you to change the temperature mid-session for a fully customizeable experience. It also optimizes power consumption during sleep mode.
The Vivant Alternate is one of our most sought after vaporizers as well as a PlanetVape favorite for many reasons. First is value for your money, Alternate Kit includes everything you need for a low price; Grinder / Filling Tool, Spare Parts, Quality Cleaning Brush, Beautiful Storage Box and more. Technical specs are many, very few of these are found all together in any other vape, an easily swappable 18650 Battery allows you to keep extras charged and ready for non stop vaping, variable airflow control, digital OLED display allows setting in single degree increments, near zero air flow restriction, very smooth inhalation is much less harsh on your throat than most other vapes, perfect sized bowl is not too big and not too small, integrated tool, produces very sizeable clouds, retains flavor of your herb longer than most competing vaporizers, efficient extraction, small size, many hidden features like stealth mode, flippable screen, beep control and more, hardware if easily flashable to add funtionality with future firmware upgrades and easy maintenance.
Vivant Alternate is a compact portable vaporizer featuring many innovative features. Utilizing a powerful mix of both convection and conduction heating to provide big clouds with great taste, adjustable airflow, a removable 18650 battery, precise temperature control, diffused heat jets and much more.
Alternate vaporizer by Vivant uses a hybrid heating chamber to provide both convection and conduction heating. Combined with eight diffused heating jets results in big clouds with great taste while providing thorough, uniform extraction without the need to stir. Also included is a stainless steel mesh pad for concentrate use.
Fully adjustable air flow control allows you to tailor the amount of air passing through the Alternate to provide a custom experience. The OLED display offers precise temperature control, Alternate allows users to choose what heat they want to vaporize their herbs at down to an exact Celsius or Fahrenheit and also displays remaining battery life.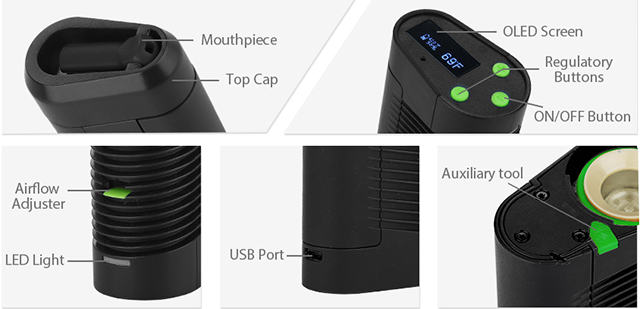 Vivant Alternate is powered by an easily removable and replaceable high output 18650 battery (not included) capable of heating the unit in about 60 seconds. A wide temperature range of 158°- 428°F (70C - 220C) is selectable in single digits through the controls on the base of the unit. The Alternate charges via standard USB that is also used for future firmware updates. The Vivant Alternate also includes a modular grinder that doubles as a loader and a chamber tool integrated into the unit for quick and easy loading of the chamber.
Vivant Alternate Vaporizer Features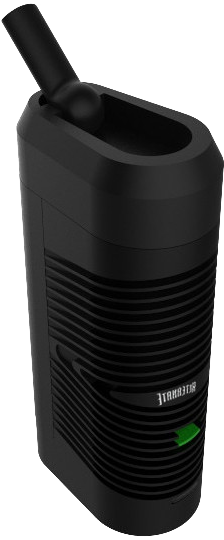 The advantage of a high performance portable, the Vivant Alternate, lies in its Hybrid, Jet Diffused and Variable Airflow Heating Chamber. Along with quality construction from Vivant Vaporizers.
Hybrid Heating Chamber Provides Both Convection and Conduction Heating

Precise Single Digit Electronic Temperature Control of 158°- 428°F (70C - 220C)

Variable Air Flow Control With Reverse Flow Protection

Replaceable and Rechargeable 18650 Battery(18650 battery not included)

Temperature Can Set In F or C

High Efficiency Heat Exchanger Extends Battery Life

High Resolution Rotateable OLED Screen For Right and Left Hand Use

Fast 60 Second Heat Up

Temperature Control Buttons Right On Bottom Of Unit

Programmable Audio and LED Notifications

Charges and Firmware Updates Via USB

Unit Weight: 0.5 lb / 235 grams

Unit Dimensions: 4.25"H * 2.0"L * 1.26"W (10.8cm H * 5.2cm L * 3.2cm W)
Full Vivant Alternate Kit Includes:
(1) x Vivant Alternate Vaporizer

(1) x Stainless Steel Concentrate Pad

(1) x Seal Ring (Top Cap)

(2) x Seal Rings (Airflow Director)

(2) x Stainless Steel Mesh (Mesh Number: 200)

(2) x Stainless Steel Mesh (Mesh Number: 50)

(1) x Cleaning Brush

(1) x Grinder / Filling Tool

(1) x USB Cable

(1) x Users Manual
Look For The Authorized Logo!
Always look for the Authorized Logo to ensure you are buying a Genuine Vivant Alternate Vaporizer. Don't take chances with your health, the advantage of buying from an authorized distributor is you will always get an Authentic, Genuine complete kit with the newest version of the Alternate Vaporizer. You will also be fully covered by any manufactures Warranty and you will receive the best service possible.
Disclaimer: PlanetVape is not responsible for any damage or personal injury caused by or from using our products. Glass is breakable and sharp, please use accordingly.
User Guide (vivant-alternate-user-manual.pdf, 3,568 Kb) [Download]