Mighty Portable Vaporizer
The MIGHTY is a portable, dynamic battery-powered vaporizer.
The awesome MIGHTY's construction includes a robust Double rechargeable Lithium-Ion Battery to Power the MIGHTY, giving it long battery life between charges and the ability to be operated with the power adapter even with completely discharged batteries. Thanks to the plus-/minus keys and the easily visible LED display, the operation of the MIGHTY is very easy: As soon as the actual temperature matches the individually adjustable set temperature, the MIGHTY is ready for use and is signaled through a short double-vibration. Through the setting options directly on the device, the personally preferred temperature can be adjusted gradually during vaporization.
YOU ALWAYS GET THE LATEST VERSION FROM PlanetVape
Mighty Portable Vaporizer Features
The advantage of a high performance portable, the Mighty, lies in its Double rechargeable Lithium-Ion Battery and high quality construction from Storz & Bickel, the manufacturer of the world famous Volcano Vaporizers.
Tested and certified product safety and quality

Precise electronic control

Double Rechargeable Lithium Ion Battery Power

Vaporization temperature can be set between 356°F and 383°F (180°C and 195°C)

High Efficiency Heat Exchanger

Full Convection with Conduction Hot Air Vaporization

Temperature Control Buttons right on Unit

Automatic switch off

110V AC Adapter

Unit Weight: 0.5 lb / 235 grams

Unit Dimensions: 5.5"H * 3.2"L * 1.2"W (14cm H * 8cm L * 3cm W)

The Mighty Portable Vaporizer Includes FAST Free Shipping with Insurance in Canada and USA
With the MIGHTY, as well as with the CRAFTY, PLENTY and VOLCANO, vaporization functions on the basis of a full hot air convection heating combined with conduction. The convection heating provides an immediate and continuous vaporization, whereas the conduction ensures that there is vapor created from the very first breath.

The Filling Chamber, which is integrated into the vaporizer, is to be filled with plant material (This is facilitated by the included Filling Aid) and the Cooling Unit with Mouthpiece is to be attached. The Cooling Unit makes sure that the vapor cools down and guarantees optimal flavor and a rich aroma.
Full Kit Includes:
(1) x MIGHTY Vaporizer

(1) x Power Adapter

(1) x Set of Spare Seal Rings

(3) x Spare Screens

(1) x Liquid Pad for vaporizing liquids

(1) x Storz & Bickel Grinder

(1) x Cleaning Brush

(1) x Filling Aid

(1) x Users Guide
Look For The Authorized Logo!
Always look for the Authorized Logo to ensure you are buying a Genuine Mighty Vaporizer. Don't take chances with your health, the advantage of buying from an authorized distributor is you will always get an Authentic, Genuine complete kit with the newest version of the Mighty Vaporizer. You will also be fully covered by the manufactures Warranty and you will receive the best service possible.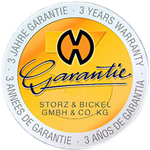 Disclaimer: PlanetVape is not responsible for any damage or personal injury caused by or from using our products. Glass is breakable and sharp, please use accordingly.