FENiX Vaporizer
Fenix is WEECKE's fourth gerneration dry herb vaporizer and is at the pinnacle of convection technology and performance. Fenix uses a patented convection heating system which is totally different than the current models in the market. It is 100% heated by Air, allowing the user to enjoy a pure, great tasting vapor on the go.
Fenix is the original WEECKE manufactured fourth gerneration dry herb vaporizer. Beware of all the re-branded Fenix Vaporizers that cost much more for a re-branded Fenix. These include but are not limited to: Utillian 720, Utillian 721, Puri5 Titanic 2, Edit Convector, Tsunami Eruption, s6xth Sense Fenix. Buy the original here and save your money.
Works With:
Dry Herbs

Most Stable Plant Extracts and Concentrates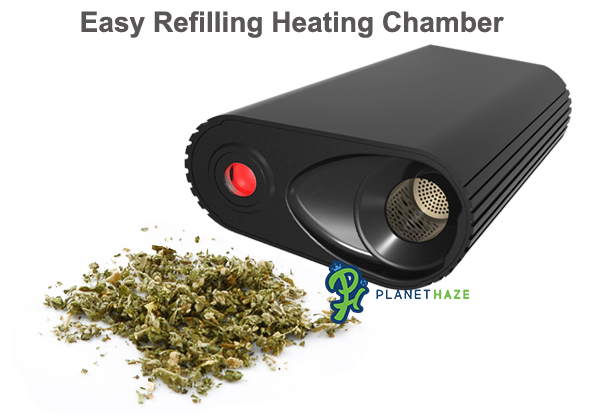 Fenix Vaporizer Features:
Patented Parallel Convection Airflow Heating Technology, 100% Pure Air Heating Provides Pure Vapor

Smart Puff-Identity Module - Choose From Soft Mode (more flavor) or Enhanced Mode (thicker vapor) For A Different Vaporizing Experience

Smart Sensor Protection Avoids Combustion

Heating Time: 20 - 30 seconds

Very Safe Fully Isolated Air Path - Air Intake Is Directly Through The Food Grade Metal Path Directly To The Chamber

Wax and Oil Cup Included, Works With Dry Herb, Wax, Shatter and Most Stable Oil (hard at room temp)

Removable and Cleanable Mouthpiece With Magnetic Technology

Four Temperatuur Settings With A Clear LED Light At The Top Of The Unit Displaying Set Temperature

Large Herb Chamber Holds Up To .3 Grams Of Dried Herbs

Size: 111.0mm * 28.0mm * 58.0mm

Input: DC 5.0V/1.0A, Battery Capacity: 2200mAh, Battery Type: LG Class A Lithium Battery

Micro USB Charging Port, 5-Minute Safety Auto Shut Off

Safety Protection: Overcharge/Overdischarge Protection, Overcurrent/Shortcircuit Protection, Overheat Protection, Open Load Protection, Sensor Error Protection
Fenix Vaporizer Includes:
(1) x Fenix Convection Vaporizer

(1) x Mouthpiece

(1) x Wax & Oil Cup

(1) x Cleaning Brush

(1) x Wax Tool

(1) x Micro USB Charger

(2) x Small Silicone Rings

(2) x Large Silicone Rings

(2) x Screens
Disclaimer: PlanetVape is not responsible for any damage or personal injury caused by or from using our products. Glass is breakable and sharp, please use accordingly.