Puretane Premium Butane
Puretane Premium Butane is the purest butane available. Through fractional distillation it is triple refined, and then filtered 9 times to bring it to a purity of 99.9998%

But this is only the beginning…

Puretane goes much further to ensure that Puretane butane contains ZERO mystery oils. This problem stems from can and valve manufacturers that are not as careful as they could be to keep the lubricants required in their machinery from leaving residue on the inside of the can and valve.

Every other butane can on the market, whether it is from Korea or the UK, buys their cans and valves from Asian factories…cheap…and you get what you pay for. It doesn't matter how many times it is filtered if it is then put into a can that has lubricant residue on its interior walls.

Puretane is the ONLY Butane company in the world that manufactures its own cans and valves in the United States to avoid this issue.

More important than anything else is your final experience, when you try Puretane butane side by side with any other on the market, there is absolutely no comparison. Recommended for all refillable butane torches and lighters as well as for getting the best extraction results from your herbal extractions.Don't comprimise your extracts with any other butane.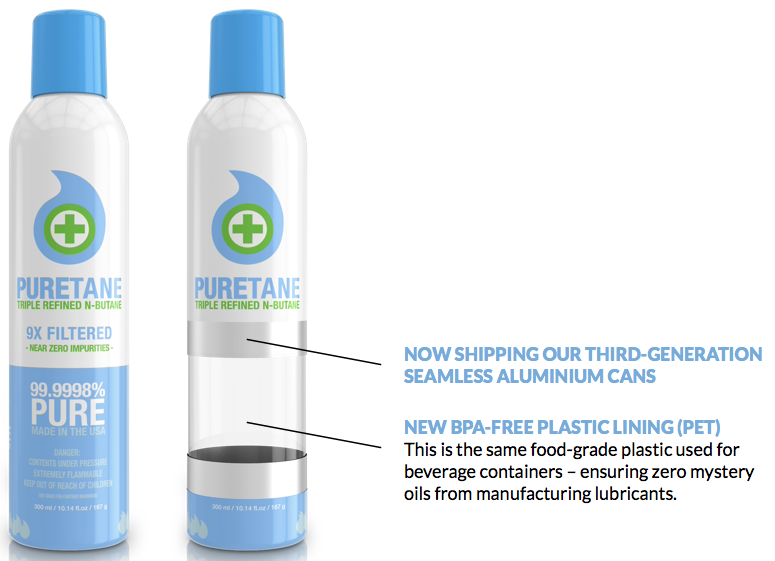 Specifications:
Large 300ml King Cans (10.04 Fl. Oz)
This Product Available in Canada Only due to Shipping Restrictions
Heavy/Large item charge of 6.95 will be applied to shipping for this item
Disclaimer: PlanetVape is not responsible for any damage or personal injury caused by or from using our products. Glass is breakable and sharp, please use accordingly.